Send to Kindle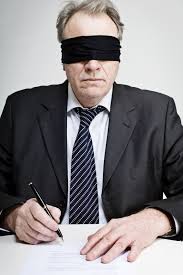 My daughter once made a Christmas present for me that she didn't want me to see. She had me bend down and she covered my eyes with her little hands. We stumbled along until we got to her room, and she pulled her hands away. My surprise was a diorama of Christmas at the Smith house, complete with the tree, presents, the stockings by the fireplace and my kid walking in on Santa going up the chimney. It is the cutest thing, and the detail was something that I never would have expected. It sits out on our bookshelf all year round, and I still remember covering my eyes and going blind in that great surprise.
When I begin working with a new client, I ask them to do something that they have never done before: I ask them to go into an interview with a candidate blind. Don't read the resume. My client will know the candidate's first name and that is it.  Why? Because reading the resume before you meet the candidate gives you the ability to pre-judge. It feeds into our prejudices, and when you read a resume, you miss the surprise.
At A-list, we have a person in charge of screening resumes, and he is amazing at it! He developed a process for screening quickly and effectively, all the while, allowing my clients to be surprised by what the candidate brings to the table and checking their prejudices at the door. This process allows for more diversity, more ideas and more creativity in a company.
Next time you hire someone, have someone else screen for you. Don't look at the resumes: be surprised by going blind into your next interview.