Send to Kindle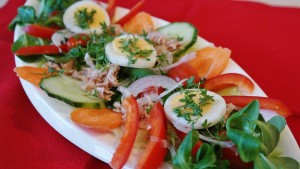 I love the salad bar at Whole Foods! I mean, I LOVE it! It is a luxury that I rarely allow myself, but I will eat vegetables there that I would NEVER eat at home. I love having the ability to choose which high quality ingredients go into my salad, and my mouth just waters. I get excited just by thinking about it, because I know that it will be the BEST salad I have had in a long time.
What would it be like if you could choose your next employee that way? What if you could hand pick the qualities of your potential candidate like you can the vegetables at a salad bar? What if you walked around the bar and were able to choose the qualities in a great employee that got you excited? For example, pick up the tongs over the "Loves Coming to Work" container, or pass over the "Can't See The Big Picture" container. After all, if you don't like mushrooms, don't put them in your salad! It will just ruin your experience.
In essence, it really is that easy if you have a strategic interviewing process in place. You begin with the Ideal Candidate List (step one in the A-list Interview process). Make a list of all the qualities that make up your Ideal Candidate and post that list on your wall. Look at it every day, and continue interviewing until you find that person. Then your new employee experience will be just like going to Whole Foods and walking around the salad bar: exciting, full of anticipation and a wholly satisfying, memorable experience.