Send to Kindle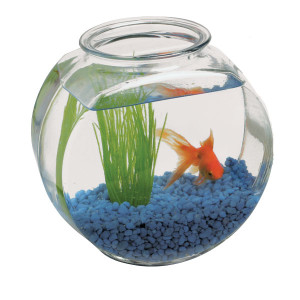 Last Friday I came home to a fish in a plastic cup on my kitchen counter. My daughter named him Harley.  She promptly went out and bought him a really nice bowl with beautiful blue rocks then filled the bowl with fresh water. I thought the fish was dead… really. He laid on the bottom for awhile and then he floated to the top. I tried to tell her that Harley was not going to make it – that he was dead in the water. She did not believe me and kept at it. She kept watching this half dead fish, trying to keep it living through pure will. We watched this fish for hours before he really began to swim around and attack the way-too-may- food pellets that we dropped in his new home. Two days later he is thriving – he looks like he is a brand new fish with a new lease on life.
A client called last week frustrated with his employee of almost 3 years… things were not getting done, balls were dropping and clients were not happy. I coached my client to sit down with his beloved employee and explain how he was feeling. Explain to your best employee ever that balls are getting dropped. Turns out, this really great employee needed fresh water and some attention. Remember, our employees are not us. They do not learn the job through osmosis; they learn it from their boss. And they continue to perform and perfect as a result of that leadership.
So, if you are feeling like your staff is half floating through their work, it is time for some attention. Show them that you are committed to their success by asking them how they are feeling about their work. Simply ask what you can do to help them enjoy their job better.  And you know what? It is shocking to me how easy it is to keep your employees engaged and happy with a committed boss who cares enough to ask "Do you need some fresh water?"
And Harley? Well it turns out that he was the subject of a science experiment in my daughter's science class. She "fish-napped" him because she said he looked dead. I said "Won't your teacher be mad that you stole the fish from the experiment?"
"Mom," she said with an eye roll. "The class is called 'Life Science', emphasis on LIFE!"
Well said, kiddo.