I wanted to share some success numbers with you. I have a client, MEP Engineering, who I have worked with for some time. They have embraced A-list Interviews and the Response Analysis System™ wholeheartedly. In fact, in their latest newsletter, they highlighted their hiring process as one of the reasons their firm has been so successful this year.  This graphic is their own, featuring their statistics from 2016:
In using A-list Interviews' 3 Step Interview Process, they've been able to efficiently screen an average of 50 candidates for each offer they make. They've achieved a 21% growth rate in 2016; whereas this source reports the average employee growth rate for their industry is 3.5%. In addition, while the average staff turnover rate for their industry is 13.3%, their turnover rate is 1%.
Figures like that show a rapidly expanding organization whose hiring process not only keeps pace with increasing demand, but is finely tuned to identify quality candidates.
That's what success looks like.
Congratulations to MEP Engineering on your tremendous growth! It's been a pleasure to continue working with you. May 2017 be just as prosperous and successful!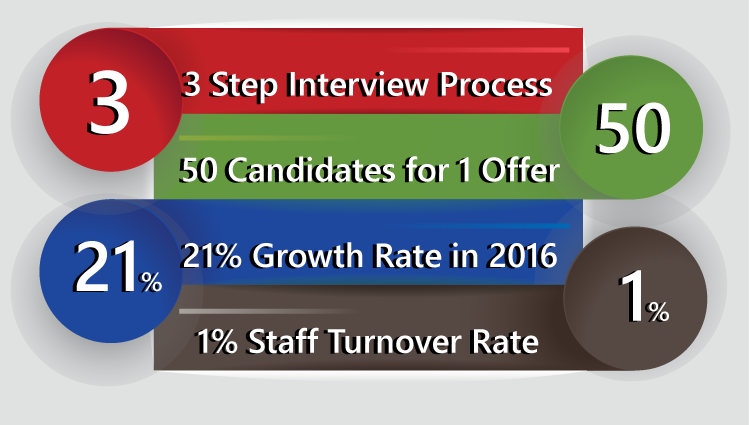 "Beth Smith has a dynamic way and unique approach to interviewing. It WORKS, we have used it correctly a dozen times and our choices have become self evident, when we rushed through the process we failed with our hires. Her class is high energy, flies by and lots of great information, well worth your time to discover a process that will save you many hours of mistakes in hiring."
Malou van Eijk
Project and Asset Mng
"A-list Interviews made the hiring process so fluid and professional. I've been a business owner, and I began this process thinking I knew what there was to know about interviewing. My eyes have opened and I have A-list to thank for my organization's success! I've hired almost 60% of my entire workforce with the aid and guidance of Beth and her fantastic team of professionals. My organizational team is now cohesive and stronger than it has ever been. THAT is what the A-list process provides for clients! I can't thank you enough Beth! "
Heather Castagna, J.D.
Executive Director
"I was incredibly tired of the frustration, poor work and huge costs that resulted from hiring the wrong person so I was open for a new way. Beth & A-list interviews provided an outstanding system that resulted in the best hires for each job. We've hired 3 people using A-list recently and I wouldn't do it any other way."
Rick Taylor
President, Lefever Building Systems
"After working with Beth Smith of A-list Interviews for the past several months, I continue to be amazed at her ability to know the right people for specific positions. She conducted several dozen interviews with me, and narrowed down our hires to just a few people, all of who have turned out to be fantastic employees. She has dramatically changed the culture of my staffing environment – not only by teaching myself a lot about my own management style, strengths and weaknesses, but also about managing people in general. She helped me hire the right people, and guided me through a new orientation process for staff that has gotten my team off to the best start yet. Within a week everyone was working at a capacity that had taken several weeks, if not months, in the past, and the business is thriving with this new efficiency and cohesion."
Ashley Ortiz
Boulder Business Owner
"Your method made the interview process a much easier and precise experience. I was able to find qualified candidates without all the hassle and stress that can come with interviewing countless applicants. I look forward to utilizing the A List Interview techniques in the future!"
Michelle Ratcliff
Manager
"I am elated by the performance and professionalism of A-list Interviews. My new staff member is dedicated, capable, and a perfect fit, not only for the position, but also the culture we have worked so hard to create. I can't wait to hire my next employee so I can work with A-list again!"
Lisa Michaud
President, Actuate Social, Denver
"Beth will sit down with you throughout the whole process, and after each interview with a candidate, she will sit down with you and your management team to discuss the good and bad things that came out in the interview, and you will start to see things you never would have noticed before. Beth will teach you to articulate why your gut is telling you either positive or negative things about a candidate; on how to really discern good and bad candidates in the interview process, rather than just hiring based on your gut reaction. Considering all the time she spent with us, it was cheap. And the last two people we've hired, we've hired on our own, because we have the process down. I won't promise that every hire will be perfect, because you may make mistakes, but Beth will be able to point out what you missed so you won't repeat that mistake. I will promise that you won't hire someone who doesn't show up for their first day of the job without calling first. Her process will weed out those people easily."
Howard Powers
XPO Logistics
"Beth led us through the interview process with relentless logic and fearless trusting of the universe."
Gia Medeiros
Owner 520 Collective Board Member Center for ReSource Conservation
"When I met Beth my business was growing rapidly. I had the systems and processes in place, the one thing that not working was our hiring process. Having the wrong people in the wrong position was hurting my business. I was lacking confidence and dreaded the interview process. During our first meeting she called what I was experiencing as a "Hiring Hangover"and she was spot on! A-list Interviews brings a system to hiring that produces results! I was blown away by the process AND actually enjoyed our interview days! I learned a tremendous amount in the time spent with Beth. I highly recommend A-list Interviews for anyone who needs to hire. They will transform the way you approach hiring and get the right people in the right positions so your business can thrive!"
Jennifer Hanzlick
President, Clutter Trucker
"Beth has done a wonderful job in helping me move from "disinterested hires" to "team members". She helped me get clear on the type of person I was looking for, as well as what was causing me to repeatedly make the same hiring mistakes."
Steve Caldara
Caldara, Wunder, and Associates, Denver
"From our small company perspective, deciding to retain the services of A-list Interviews was a difficult financial decision. Now in hindsight, hiring Beth Smith has been one of the best business decisions that we have ever made. Beth has helped us hire two exceptional employees that have exceeded our every hope and wish – making our lives much easier, and coming to work everyday a joy. Not only did Beth lead us through the entire hiring process with guidance, confidence and clarity, she also took the time to teach us how to learn and manage our future employee hiring. On our own, we now have the tools and structure necessary to lead a successful interview process. In addition, Beth has proven to be open and willing to coach us as we go."
Kent Lemburg
Soulstice, Englewood
"Hiring people is the hardest thing I do in running my Company and my least favorite task. Beth changed my perspective when she came in to hire a critical position in my business. The process was painless, quick and very efficient. Another benefit of hiring Beth is that I am more likely to hire earlier for a position knowing that I am not the one doing the legwork. What would normally have taken me 2 months to accomplish was completed in 1 week. From the initial meeting to the hiring of the candidate Beth kept me informed of where she was in the process and answered all of my questions. I will never hire someone again without the involvement of A-list Interviews."
Christopher K. M. Leach
Contract Furnishings, Inc., Denver
"The best thing about Beth and her team is that they are not about closing a quick deal and simply hiring a candidate to fill a role. They are about finding the right candidate for the specific position. This may take longer than an employer may want, but in the end her teams process is well worth it!"
Roger C. Crawford, P.E.
MEP Engineering, Inc
"I had embarked on trying to find the right person to add to our company. I had always thought I had a great ability to interview people and choose the right person. However, I was looking for the right person to take our company to the next level. One who had true integrity, good work ethic and would be honest. This is very hard to screen for. When Beth Smith of A-list Interviews entered the picture, I had already written and posted a job ad. I had received many resumes. The first round of interviews was with people who responded to my ad. Beth came in and interviewed 7 candidates with me – all of which did not pass her Response Analysis System™. She taught me how to evalutate their responses so I understood why these candidates did not pass. She assisted me in writing a better job ad and we did a second round of interviews. It was in that round of interviews that we found our A-list candidate. I couldn't be more happy with the person we found. She shows true integrity, goes the extra mile and does things I don't even ask her to do. How refreshing to have found someone who is an A-list member of our team!"
Beth Boen
CreativeXchange Marketing, Littleton
"Beth taught us how to hire the best fit for our company instead of the person with the most experience. Making sure they are a match for our company culture has made a profound difference in our hiring process. I would highly recommend A list Interviews to every hiring manager or business owner"
Dan Schachtner
Station Manager, Concert Group Logistics
"Beth was integral to our hiring process. Her diligent and unconventional procedures produced a fantastic person for our company. We will certainly use Beth for hiring in the future."
Eric Burkgren
Financial Security Mortgage